(Below photo) : First Trial
With Bridal Season in full swing, I wanted to create a blog post about the "Benefits Of Getting a Bridal Trial Makeup" for both The Bride and MUA. Included in this post is a chat with one of my destination brides, Elaine from this past January. I had the opportunity to get her insight on her experience with having a Bridal Trial and how at ease she felt after we pinned down the look.
The Bridal Trial begins with the following points before I even start applying makeup:
Discussion of expectations with bride
Skin type evaluation insight into current skin care regimen (This determines how I prep the skin and any recommendations I may have for skin care)
Any pictures/pins they want to share (pictures give a good example of what they want however sometimes a second trial is needed if the first look they went with was not what they were expecting)
Discussion of overall make up coverage/finish they want (face, eyes, lips, and false lashes) I want the Bride to feel their most beautiful while being comfortable!
Following the consultation I start doing my thang! Usually taking about 60-75 minutes. After the look is finished I take some pictures so we have a reference. I then exam the picture with the bride under zoom in to view the details and confirm that we are both elated with the outcome. If there are any changes that are needed, I will make adjustments on the wedding day.
Through my experience with Elaine (former Bride), we both agreed the first trial look was beautiful, however we wanted to do a second trial. Elaine wanted to feel more in her makeup comfort zone, but more elevated. Because of the second trial, we nailed down the look and she loved it! I want to share that if you are a bride getting hair and makeup trials done don't be afraid to speak up to your professional if you are not 100% about the look. Honestly, most professionals would love it if you gave them your honest opinion as they want to do a great job and make their Brides happy! That is what trials are for! I wanted to chat with Elaine and ask her some questions about her trial makeup experience and what she found most helpful.
Emily: Did you have an idea of what look you wanted for the trial run?
Elaine: I sort of had an idea. I brought a few pictures to Emily and she suggested that we schedule a trial run make up session to see if I liked that look in particular after I had it on.
 
Emily: Was the trial look what you ended up with?
Elaine: No! I liked it, but after the trial run I realized I wanted a smokier look with less shimmer than I had originally thought.
 
Emily:Did you feel like the trial was necessary
Elaine: 100%. I'm so glad I did the trial because what I had originally thought I wanted ended up not being what I went with at all, and I would have been stressed out on my wedding day!
 
Emily:What did you find helpful during the trial session?
Elaine: Emily asked about my skincare and make up routine before starting the trial session, and during the trial she talked me through everything she was using for my look. She taught me tips and tricks that I could incorporate into my daily routine which I loved. For example, I was worried about my skin being dull so she gave me recommendations as to what services or products I should be using in the months leading up to my big day to get perfect glowing skin.
 
Emily: Would you recommend other brides to do a trial?
Elaine: 100% yes!
 
Emily: Did you feel like the day of went smoothly because of the trial?
Elaine: Yes. There were no surprises. First of all, I already knew what I was going to look like once she was done, and second I knew exactly how long it would take. I've known brides who opted not to have a trial make up run and they ended up not liking their wedding look as much as they thought.
 
Emily: Did you feel at ease after the final look was decided?
Elaine: Yes! One less thing to stress about! I was so happy and really felt like a bride.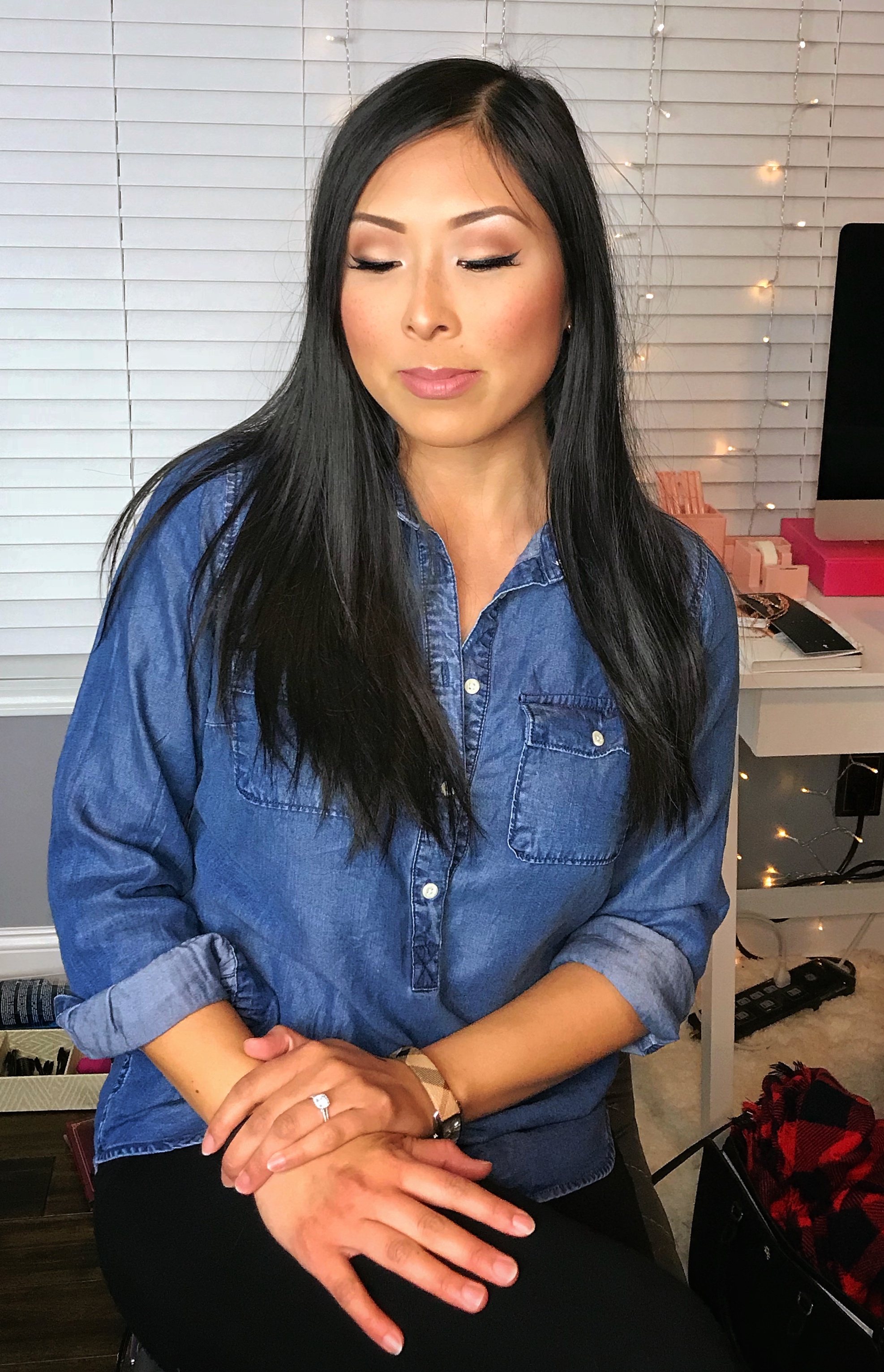 (Above Photo): Second Trial and Final Look